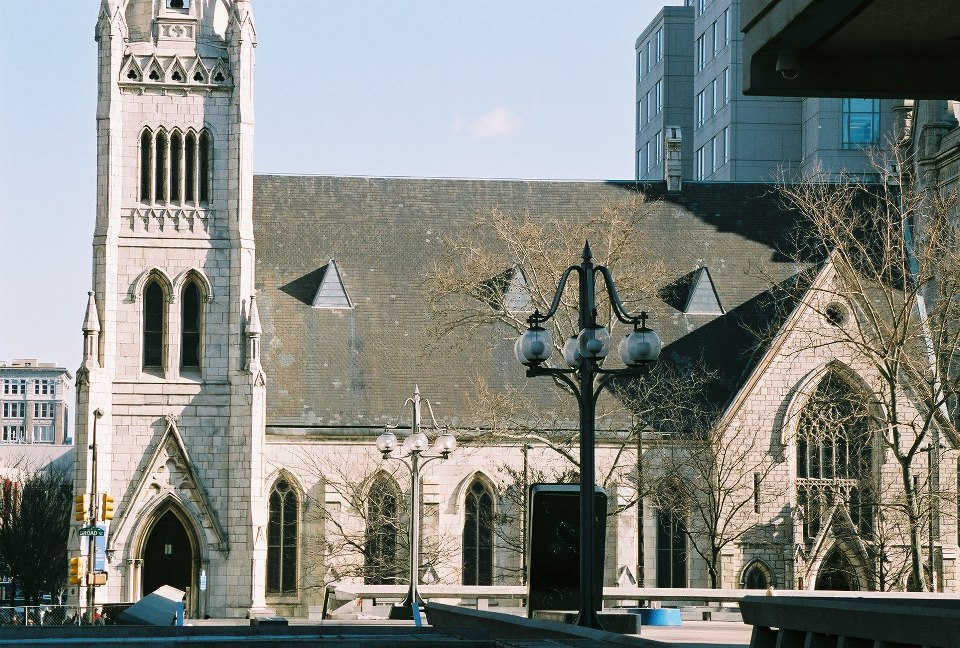 Arch Street United Methodist Church
                      A Reconciling Congregation
55 N Broad Street
Philadelphia, Pa 19107
(Broad & Arch Streets)
215-257-4626
To see the church website click here
Arch Street United Methodist Church is an historic, architectural treasure located in the Center Square neighborhood of the City of Philadelphia. We were established in 1862 – before Philadelphia's City Hall (which is the largest municipal building in the United States) was even built.
We are literally located at the crossroads of the city and, as such, we have one of the most diverse congregations in Philadelphia.
For decades in the mid-20th Century, Arch Street UMC used as its motto the title of an old hymn, "Where Cross the Crowded Ways of Life", since the church was so centrally located, one half block from City Hall in downtown Philadelphia.
Established in 1862 as a neighborhood church long before City Hall was completed. ASUMC was built with the vision of greater things to come…both for the City and the church's role in that grand view of the future.
TO SEE THE FULL HISTORY OF ARCH STREET UMC CLICK HERE
JAZZ & JOE
Wednesday March 21st
TIME OF THE EVENT 
7:30 PM – 9:30 PM
coffee/deserts
 a brilliant community gathering
this is a secular event – all are welcome!!!!!
A Jazz Sanctuary Band
The Alan Segal Quintet
Eddie Etkins – sax/wind instruments
Leon Jordan Sr. – drums
George Sinkler – piano
Randy Sutin – vibes
Alan Segal – bass