About the Diocese of PA
Welcome to our diocese. The Diocese of Pennsylvania is the second oldest diocese in the Episcopal Church. The first Bishop of PA, the Most Reverend William White, was also the first Presiding Bishop in the Episcopal Church as well as Chaplain to the Continental Congress. This historic diocese is comprised of 132 worshiping congregations located in the southeast portion of the state, throughout Philadelphia, Bucks, Montgomery, Delaware, & Chester counties.
The Diocese of Pennsylvania carries out the Church's mission of bringing individuals to faith in Jesus Christ primarily through its 132 parishes and missions planted throughout the five-county Philadelphia region. Indeed, thirteen of its parishes ante-date the founding of the Diocese itself in 1784. Gloria Dei was established, first as an outpost of the Church of Sweden, in 1642, and Christ Church, Philadelphia, was founded as the first parish of the Church of England in 1695. Historically, the Diocese took a laissez faire attitude towards the creation of churches, 30% of which were begun by individual clergy, 30% by laity who gathered  to worship according to the Book of Common Prayer and later called a priest, 30% by a parish vestry which initiated a mission church in a new area or neighborhood, and 10% by the Diocese. Some areas of the Diocese see an Episcopal parish or mission church every few blocks, the result being that parishes tend to sharply distinguish themselves from one another historically, architecturally, theologically, liturgically, and in their sense of mission. The consequence is a rich, colorful, interesting mosaic of churches that is indispensable to the identity of the Diocese and the quality of life for the region it serves.
The Diocesan office is open Monday through Friday, 9 a.m. – 4:30 p.m.
Bishop Daniel G. P. Gutierrez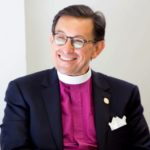 Episcopal Diocese of Pennsylvania
3717 Chestnut Street
Suite 300
Philadelphia, PA 19104
(215) 627-6434 [phone]
267-900-2928 [fax]
.


To reach the diopa home page
click here
.


To reach the parish calendar
click here
.


To send us an email
click here
[/ezcol_1third]
---
The Diocese of Pennsylvania has graciously offered to pubish our events on the Diocesan calendar, parish to parish emails and link our websites.  Thanks to Bishop Daniel and the Diocese for helping us reach our mission.  Bishop Gutierrez has continued this help with the most gracious contribution of $2,500 half of which will be applied to education and half to bring Jazz & Joe to churches. 
---