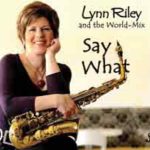 "(Riley's) a show stopper.  She wails, she grooves, she swings.  She plays with authority, with power, with soul."
—Philadelphia Daily News
"Ms. Riley is a sax dynamo who can blow away the walls or soothe the savage beasts.
—True Van Deusen, Philly jazz
Known as the "Superwoman" of the saxophone, saxophonist and flutist Lynn Riley expands the musical horizons that inform her infectious music. A gifted instrumentalist and composer, Riley has impressed critics and audiences alike with her funky and accessible sound that is firmly rooted in the main-stream jazz tradition while infused with influences like gospel music and the blues as well as by traditional musics from a host of world cultures. Based in Philadelphia, she has performed with David Murray, Johnny Pacheco, Grover Washington Jr., Philly Joe Jones, David Bromberg, Peter White, Rachelle Farrell, and Charles Earland, among others.
Born in Washington, D.C., and raised outside of Philadelphia, Riley earned a B.A. in Ethnomusicology at the University of Hawaii. She continued her musical studies at the University of Missouri in Kansas City where she spent five years on the Board of Directors of the Women's Jazz Festival and played with such luminaries as Carmen McRae, Marian McPartland, Shirley Scott, Emily Remler, and Blossom Dearie. Over the years Riley's compositional vocabulary and style has been further enriched by her travels to and performances in Ghana, Cuba, South Africa, Bolivia, Brazil, Bali, Spain, and Colombia.