---
Only with your help, only with your donations, will we be able to move The Jazz Sanctuary forward to achieve our mission of maintaining America's great music invention: JAZZ; by bringing jazz to the community through performance at community gatherings; to further the study of jazz to those who cannot afford the cost; to pay musicians a fair rate for their effort.
---
Many thanks to the members of our board who have contributed their talent, time, energy and funds.
The entire board has been supportive in so many ways to our aspirations.
Thank you.

.


Leon Jordan
Eddie Etkins
Regina Gordon, Ed.D.
Herman Axelrod
George Limbach
Lowell Mann, Esq.
 Candace Roberts
Alan Segal
Kevin Supka
(Also, special thanks to DIOPA)
Past Board Members
Thank you for your service to The Jazz Sanctuary
The Rt. Rev. Rodney Michel
Charles I. Nix
Orien Reid
.
---
---
Federal Registration
The Jazz Sanctuary is an approved  charitable organization  (501 c 3)
State Registration
" The official registration and financial information of (organization) may be obtained from the Pennsylvania Department of State by calling toll-free, within Pennsylvania, 1-800-732-0999.  Registration does not imply endorsement. "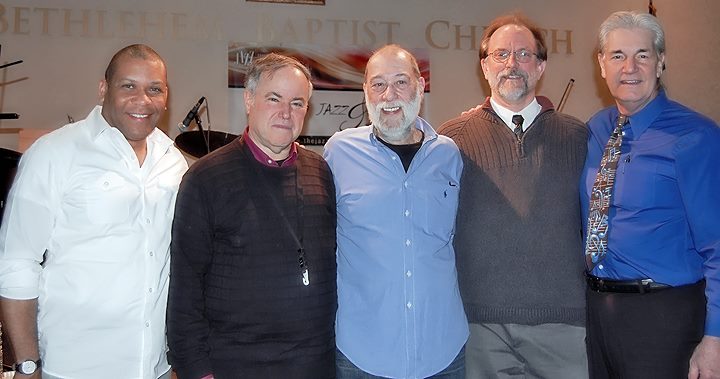 ---
Thanks to Our Donors:
We are very grateful to our donors in past years and now we are pleased to start the 2018 list and watch it grow as you make your donations.
---
---
THE 2018 DONOR LIST
MATCHING FUNDS
match by:
Compass – Ion
Alan Segal, LLC 
TOTAL MATCHING FUNDS TO DATE : $ 5,394.00
Matching Funds: December 2017 January 2018: $ 5,394.00
FUNDS MARKED FOR EDUCATION: $ 1,000.00
IMPRESSARIO – $ 1000 +
Seymore Rubin – contribution for music education
BAND LEADERS – $ 450 – $ 999
FRONT PERSONS – $ 250 -$ 449
Bruce & Karen Givnish
Kaila Kellerman
Richard Thatcher
Ronald & Joe Feigles
SOLOIST – $150 – $249
Dennis Colgan
Ephe Oliver
Richard & Jeanette Woehr
St. David's Delaware – Cash Contributions
Stanley & Margot Harrison
William & Mary Lee Lieser
MEMBERS OF THE BAND TO $149
Alexandra P. Griesel
Alfred & Pamela Fuchs
Anonymous
Barry & Bonnie McCabe
Bernadette Gross
Brian Dubois
Cash Contributors:
      Church of the Redeemer – Springfield
Carole Grey
Charles & Sharon Whitney
Dave Campbell & Marcia Campbell
David & Cynthia Jamison
David J & Deanna M Romero
Diana Cercone
Diana Martinez
Douglas Berman & Karen Rozenberg Berman
Dr. Warren & Hitomi Mathews
Edward Ritvo
Elaine A. Hassinger
Ephe A. Olliver
Frank & Charlene Millheim
Frank Weber
Georgene Y. Taylor
Glenna F. Geiger
Glenn & Gloria Hall
H. Ronald & Alkie Richardson
Ingrid C. Deckman
James D. Von Dreele (The Rev.)
Jean Perry-Becton
Jeanette Rogers
Joanne Olszewski
John & Ellen Condello
John Hightower
Joseph & Eileen Andrews
Judith & Joseph Madison
Herman & Maddie Axelrod
Lionel Broome
Lorraine Pentz
Lucy J Carroll
M Diane Ramsey
Madison Y. & Lois B. Saurman
Marile R. Marshall
Nadine Lomakin
Nathan Kolbes
Patricia Cashman (The Rev.)
Patricia Lambert
Quantum Think (Candy & Mark Roberts)
Regina R Gordon
Robert A. Schnell Jr.
Robert I. Stringfellow
Rodney R. Michel, Bishop
Russi I Noshir & E.L. Dastur
Stephen K. Carr
Stephen Gershenson
The Episcopal Church of the Redeemer
Listen to some music, celebrate life……….
                                                                                               and visit with us at a Jazz & Joe event.
---
We thank each and every one of you.
Please contact two friends and ask them to help us reach and gain our goals.
Only with your help and the help of our sponsors will we succeed.