Jazz 'n Joe at


St. Peter's Episcopal Church Glenside
---
Located at:
654 N. Easton Road
Glenside, PA 19038
Phone: 215-887-1765
---
Date of next event:  JANUARY 28th – Sunday
---
Event hours: 7:00 PM
---
Parking is Available
Joe (coffee/tea) & sweets provided
---
Cost:
Free Will Offering
---
Appearing at this event:
A JAZZ SANCTUARY SEXTET
Eddie Etkins – sax/wind instruments
Leon Jordan Sr.- drums
George Sinkler – piano
Alan Segal – bass
Randy Sutin – vibes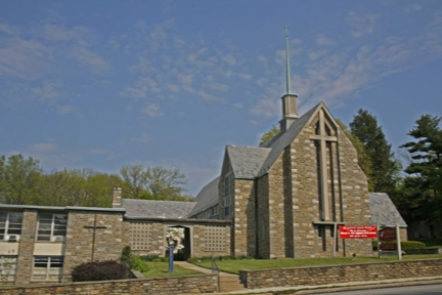 .
.In August, 1873, the Weldon Sunday School in the Community Hall of the Ladies' Soldiers' Aid was started for summer attendance. This hall had been built during the Civil War on Plank Road (now Easton) on the site where the present Parish House now stands. The Hall was first occupied September 20, 1864 for the purpose of sewing, bandage making, cloth collecting and cooking for the men in hospitals during the Civil War.
As the school seemed to grow, people showed interest in having a church in the Weldon area. The only other Episcopal Church in the nearby area was the Church of Our Savior in Jenkintown. So an agreement was made by two unrelated men, Mr. Russell Smith and Mr. Thomas Smith, who also lived in the area in the summer months. Mr. Thomas Smith gave the money to build a frame church and Mr. Russell Smith gave the land which was just north of the Community Hall.
The building of the church was begun in July 1881, and completed by the first of December, 1881. The first service was held Christmas Day, 1881, at 3:00 p.m. The Sunday School met thereafter at regular intervals with a service and celebration of the Holy Communion once each month in the afternoon.
Since the church was small and had insufficient membership to sustain it, it was held in ownership by the Diocese of Pennsylvania and was known as the Bishop's Chapel. As the area grew , the church congregation grew. Weldon became known as Glenside-Weldon and now Glenside. In 1952, after a number of vicars had led the small, and at times struggling, congregation, the church had grown so substantially it joined the Diocese as an incorporated congregation. At that time, the Vicar, always appointed by the Bishop, became the first Rector of the St. Peter's Church. This was the Reverend Robert Nelson Back. Our current minister, the Reverend Emily Barr Richards is the 6th Rector to serve the congregation.
The world changes and so do we as we strive to meet the needs and challenges of our time and place. Together with our church family at St. Peter's, we eagerly embrace the future …
"Rooted in love, growing through God's grace, and reaching out to all."
If a friend has forwarded you this email you can:
Click Here to join our mail list
(please fill out
the form on the Home Page)
Click here
to connect to the church web site:
St. Peter's Episcopal Church Glenside

---
 z
---
Photos below will be added


.