Jazz 'n Joe at
St. Stephen's Episcopal Church
---
Located at:
199 W. Baltimore Avenue,
Clifton Heights, PA  19018
Phone: 610-622-3636
---
Date of next event:
Sunday July 16, 2017
_________________
Event hours:
6:00 to 8:00
---
Parking is Available
---
MUSIC BY "THE JAZZ SANCTUARY" CONCERT WILL BE CONDUCTED "UNDER THE STARS", ON THE LAWN
Bring Your Lawn Chairs and / or Blankets In Case of Inclement Weather-Concert will be Moved inside the Parish Hall
TO HELP COVER EXPENSES
Suggested Donation – Adults – $10 ; Children-Free
REFRESHMENTS Will be Available for a charge and will feature the Flavors of New Orleans: Gumbo – Muffalettas Hamburgers-Hotdogs – Drinks- Will Also be Available
St. Stephen's  Episcopal Church Website – click here
ALL JAZZ & JOE EVENTS ARE SECULAR – ALL ARE WELCOME
---
Appearing at this event: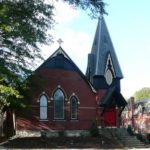 St. Stephen's
Mission Statement
St. Stephen's is a parish of the Episcopal Diocese of Pennsylvania. We are a loving church family which encourages regular ministry and parish activities beyond Sunday worship. We share our time, talent, and treasure with others in need.  We will continue our work to bring God's message more fully to our community through increased outreach and evangelism.
A short history:
On a bright Sunday, May 5, 1872, the Reverend James H. B. Brooke held a service of the Protestant Episcopal Church in the School House on Baltimore Avenue in the tiny borough of Clifton Heights.  This was the beginning of what was to become St. Stephen's Episcopal Church.
The first celebration of Holy Communion would not take place until the following October.  The members met for organization in April of 1873.  On October 12, 1878, the cornerstone of the Church was laid by the Bishop of Pennsylvania, the Rt. Rev. William Bacon Stevens, D.D., and the Church was consecrated by him on March 15, 1879.  How appropriate that St Stephen's be established by Bishop Stevens.
The Parish House formally opened on July 28, 1881.  Thomas A. Scott, Esquire, president of the Pennsylvania Railroad, provided the funds to have this built in memory of his son.  A plaque commemorating this has recently been restored and hangs on the wall of the Parish House.
The first rector of St. Stephen's, William W. Taylor, served until 1885, followed by The Revs. Daniel M. Bates, James Fry Bullitt, Thomas Bell, J. Garwood Quinn, Henri M.J. Huff, Edward H. Bonsall, Jr., Oliver E. Newton, George W. Barnes, Henry M. Prentiss, Norman Kerr, Hobart Heistand, Robert Gearhart, Charles Mauch, Donald M. Whitesel, William Martin, John F. Williams, Jill McNish, and Linda Kerr.
If a friend has forwarded you this email you can:
Click Here to join our mail list
(please fill out
the form on the Home Page)
To connect to the church web site click below: